Do you have an event planned for Community Manager Appreciation Day 2015? Add it to our List.ly list:

Bonjour les membres, Le 26 Janvier est la journée internationale dédiés aux community manager: "Community Manager Appreciation day". Initié en 2010 par Jeremiah Owyang, cette journée dans l
Added by Sherrie Rohde on Jan 12, 2015
2
#CMAD Dublin meet up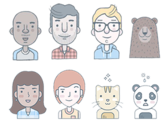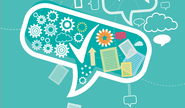 Suomessa vietetään jo neljättä kertaa yhteisömanagereiden kansainvälistä teemapäivää. Amerikasta alkunsa saanut Community Manager Appreciation Day eli lyhyesti CMAD kokoaa yhteen ihmisiä, joiden työnä on keskustella yhteisöjen kanssa mm. erilaisissa sosiaalisen median palveluissa. Lahdessa maanantaina 26.1.2015 talkoovoimin järjestettävään tapahtumaan osallistuu 250 nykyistä ja tulevaa yhteisövastaavaa ympäri Suomen.
Added by Sherrie Rohde on Nov 23, 2014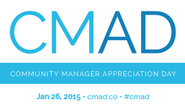 Dom & Sherrie will be en route to The House of Brew on January 24th, which means we're driving through Chicago and we want to see you! :)
This will be a totally chill meetup, no agenda. Everyone is on their own for any food/drink.
Added by Sherrie Rohde on Dec 03, 2014
The Community Roundtable is looking to ring in Community Manager Advancement Day 2015 on January 26 with the pomp and circumstance it deserves. We are working with Higher Logic on a series of 6 events (Boston, New York, Washington D.C., San Francisco, Atlanta & Milwaukee) to recognize community managers and preview the release of TheCR's newest publication for community managers.
Added by Sherrie Rohde on Dec 19, 2014
Come celebrate Community Manager Appreciation Day with us over drinks at Paulaner! For our first official We Support NYC event, we're keeping things casual. Grab a drink and meet other Community and Support Managers from Foursquare, Behance, Vimeo, Adobe, Big Spaceship and other great New York tech companies.
Added by Sherrie Rohde on Dec 26, 2014

Get ready to share your #CMADSelfie for Community Manager Appreciation Day 2015!
Added by Sherrie Rohde on Dec 29, 2014

Communities are exciting, engaging ... and exhausting. Come recharge your social batteries at Sprout Social. We'll have a little something for everyone's favorite method of recharge, and plenty of food and drinks, of course. Date: Monday, January 26, 2015 Time: 5-7pm Location: Sprout Social, 131 S. Dearborn St., Ste.
Added by Sherrie Rohde on Jan 07, 2015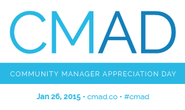 Eventbrite - Nicholas Tolstoshev presents Community Manager Appreciation Day Denver - Monday, January 26, 2015 at Roostercat Coffee House, Denver, CO. Find event and ticket information.
Added by Nicholas Tolstoshev on Jan 15, 2015
Community Manager Appreciation Day takes place every 4th Monday of January as a way to recognize and celebrate the efforts of community managers around the world using social media and other tools to improve customer experiences. We are gearing up for a live hangout with some fantastic topics and expert panelists, Stay Tuned!
Added by Sherrie Rohde on Jan 15, 2015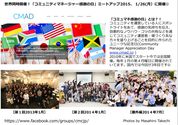 コミュニティを運営している人にスポットライトをあて、効果的なノウハウ・コツの共有などを通じてコミュニティ運営者・場づくり系な方々を盛り上げることを目的に作られたユニークな記念日
Added by Sherrie Rohde on Jan 19, 2015
Lithium is hosting a happy hour in Austin, TX for Community Managers and those who want to raise a glass to toast their tireless work in making sure our online communities are successful. Come join Lithium in celebrating the unsung heroes of online community, the Community Manager, with complementary drinks and snacks at the Brew Exchange on Monday, January 26 from 5:30-7:00 PM.
Help us celebrate Community Manager Appreciation Day (CMAD) in Austin.
@LithiumTech
#CMADATX
Added by Ted McEnroe on Jan 20, 2015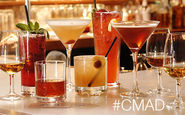 Join us at 6pm in Scoop.it's Soma, San Francisco HQ for drinks, snacks, and
#cmgr
love!
Added by Sherrie Rohde on Jan 22, 2015
Community Manager Appreciation Day will be in full force on January 26th, and you're invited to take part in the fun. MRY is our meeting spot. We'll be hosting a special panel this year, Voces of Social: Engaging the Hispanic Market. Are you interested in knowing the current Hispanic landscape within social and digital?
Added by Sherrie Rohde on Jan 22, 2015
Vous êtes community manager? Vous passez vos journées connectées à répondre aux questions et aux besoins de vos communautés? Excel et PowerPoint sont vos alliés pour vos rapports et vos reporting? Vous êtes disponibles 24h/24 et 7j/7 et on continue à vous dire que vous êtes un simple administrateur de page Facebook?
Le Social Media Club Tunisia et Tunivisions Magazine ont pensé à vous et veulent vous remercier pour tous vos efforts lors du Community Management Appreciation Day
Cher community managers, beaucoup de surprises vous attendent. Restez connectés et surtout checkez vos inbox le jour J :)
La participation est sur invitation uniquement et les places sont limitées.
Si vous voulez participer, merci de remplir ce formulaire
http://goo.gl/Xu81tf
Added by Sherrie Rohde on Jan 27, 2015